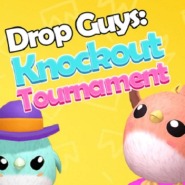 In this cool racing game, you will interact with cute characters – funny-looking chicks. They come in all colors and shapes, and you need to take one of them under your control. The good thing is that you can customize your hero and make it look really cool!
Run and jump to the fullest!
Now you need to start a chaotic run in the company of other weird personages. The path is packed with all sorts of dangers. It will be a terrible trial for your clumsy hero to successfully overcome them all. Help him carefully navigate between traps and jump over all the barriers. Every time the hurdles become more difficult, and you will need to make enough effort to succeed. Try lots of modes and win generous bonuses to unlock new features and skins. This racing adventure will bring you tons of fun – enjoy it now! You will also get access to new characters as you progress!