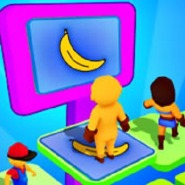 It is a new engaging puzzle for boys! You will play for a funny character that needs to move on the special board to survive. However, you cannot move chaotically – you should follow a special algorithm to survive. Are you smart enough for this challenge?
Follow the right pattern!
Look at the top of the screen to find out what pattern you need to repeat. Then look around and try to move to the tile with the same image. Otherwise, you will simply fall into the abyss. You need to successfully complete three short rounds to win. But it will be really hectic to make the right decision as you will simply have no time for thinking. You should fully rely on your agility and move instinctively. Do not give up too soon – some training will allow you to enhance your skills. The activity is very engaging and will help you kill time and have fun!