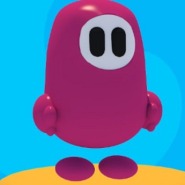 Welcome to this fun and dynamic game that you can play online with your friends! It's another amazing battle royale designed in a deliberately simplistic style. Defeat your opponents on the battlefield, push everyone out of the arena, unlock new maps and character skins!
Push, grab and throw!
This is going to be a heated and riveting clash! Several people will confront each other on the arena and try to push or throw their opponents beyond the limits of the field. Beware of a situation when your rival holds you up ready to hurl you out – at moments like this, you have just a few seconds to break free by clicking as fast as possible. Naturally, you can do the same to your enemies. The less people are left on the battlegrounds the better. In the long run, there will be just two last people remaining that will fight for the champion's title.
Spend your winnings on upgrading your character!
For winning, you will get coins that you can spend on purchasing special skills. You surely need to spend a few on increasing your Hold Power (an ability that will allow you to grab and hold your opponent for a longer time) and Escape Power (a skill thanks to which you'll be able to get out of your rival's grip more successfully). The interface and controls are really simple and understandable and you'll hardly have any trouble figuring out what to do in the game. Try fallingman.io and see for yourself!