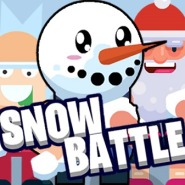 When did you last play snowballs? Do you want to go through this fun again? Now you can enjoy this confrontation on the Internet – just open Snow Battle and let the fun begin! You can play alone or invite your friends to share the fun!
Try to earn a record score!
As in other io games, your main target in this entertainment is to earn as many points as possible. First, you need to accumulate enough snow. The next step is to form a huge snowball. When you make it big enough, it is time to throw it at your opponents. The task is to kill as many enemies as possible with just one go! But be very careful as your adversaries will also try to knock you down with a snowball! Kill them all, earn points and unlock new maps and skins. We bet you have never tried such an unusual battle royale in the icy arena! Have incredible fun rolling snowballs!