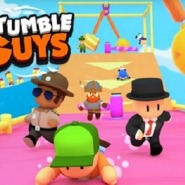 Welcome to a picturesque virtual city inhabited by cheerful yellow men! They look very funny – large heads that merge with the body (which makes them look like just yellow balls on legs), small limbs and clumsy movements … But their strange physique does not prevent them from agility and speed! You will see this by playing Stumble Guys online!
The crazy race begins!
Residents of this colorful area do not like to sit still. They are very active and constantly on the go. Most of all they love various entertainments and competitions. Therefore, every day a mass race is organized in the city, in which everyone can participate. Since you came here today for a visit, you also had the opportunity to become one of the contenders for the crown of the winner. Can you complete all the levels to win her? It will not be easy, because real players are fighting against you! Each of them has its own strategy of behavior and unpredictable decisions that you can hardly predict. It's not the same as playing against bots. Well, are you ready to start?
The first round of racing will be the easiest and most introductory. You just need to run to the end of the location, deftly avoiding obstacles and avoiding traps. But at the same time, the maximum number of people will participate at this stage of the competition. So get ready, it's going to be hot! Your rivals will push and trip you, trying to knock you off the track. You must by all means stay on your feet, because if you fall, you will be thrown back to the last checkpoint. However, even if this happened, you should not be very upset. After all, the race can unfold according to a very unexpected scenario and you can always catch up even if there are only a few seconds left before the finish line.
Non-stop action and vivid emotions!
Stumble Guys will surely please you with colorful graphics, fun and addictive gameplay, as well as a variety of levels, on which there will be fewer and fewer participants left each time. Those who reach the finish line last will be eliminated from the competition. Only the fastest and most dexterous will advance to the next round. This will continue until the final round, where the confrontation will reach its most intense point as you compete with those few left for the crown of the champion waiting for you somewhere out there. Start playing right now and see if you can get the grand prize!