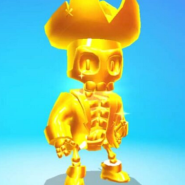 Do you love action and adventure? Here is entertainment that will not leave you indifferent. It is a spectacular adventure where you will confront with other players in real time without using a weapon. The Stumble Guys project was inspired by the popular Fall Guys, but this new version comes fully redesigned. Are you ready to challenge your luck in this crazy contest?
Welcome to an unbelievable run!
You will find yourself in a world of cartoon-looking characters. You also need to create a unique hero you will play for and customize it to your preferences. After you are ready to continue, you will move to a fighting arena that can hold 32 players. The key task is to join a crazy run and become one of the first participants that finish it successfully. This thrilling marathon is not going to be easy as it is packed with all sorts of obstacles and barriers. If you are determined to cover it, be prepared to jump, crawl and even fly to succeed. Every time, you will move across a new location, and it will be vital to evaluate it properly and adapt to all the trials if you want to perform better than your adversaries. You will need all your agility and logic to make it right!
Be strong to win!
If you dream of becoming the ultimate winner of this competition, you must hold out for four rounds. Even if nearly three dozen players start the first round, only half of them will be admitted to the next one. You should do all in your power to be among those lucky users. And again, only eight players will have a chance to fight in the third round. You should always take into account the behavior of your competitors if you want to survive. It is even allowed to kick them off the track! Nothing should stop you on the way to victory! And do not forget to upgrade your character by participating in tournaments and various mini-games. It is a thrilling adventure that will bring you a lot of fun! Plunge into it right now!