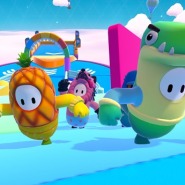 The famous battle royale trend started by Fall Beans the the likes has mostly revolved around male characters. The female audience has been feeling that it's kind of unfair all this time. So the new edition includes not just guys, but also girls! Here you can choose a female character even if you're a guy in real life and set out on a wild race competing for the title of the champion on a series of colorful and obstacle-packed locations!
Now with female racers!
The essence of the gameplay hasn't changed since the times of the original Fall Guys. You'll get an angular human being under your control that you have to guide through a set of hurdles in an attempt to become one of the first to finish off. That will guarantee you a pass to the next level. Not all of those who started off in the race will make it to its end. Some people will fly out right away, others will have to leave in the middle. Only the most stubborn, agile and lucky ones will get a chance to enter the final round!
Colorful, fun and addicting!
Fall Guys and Girls will strike you with vibrant graphics, fun and dynamic gameplay and lots of levels that barely repeat. It will always be a surprise for you and you surely won't get bored playing this wonderful game. It will help you blow off some steam and get charged with positive emotions that are guaranteed to everyone launching it. Discover more by playing the game online!