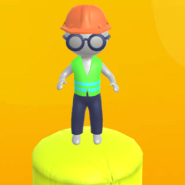 If you love the feeling of competition in online games, then do not miss the Stumble Boys adventure. It is a colorful racing challenge where you will compete with other players in real time. The task is very easy – the fighting arena holds 32 players that will run together to the finishing line. Only the smartest contestants will be allowed to the next level.
Pass four rounds to win!
After the first round, the 16 weakest players will leave the game. Make sure you are not among them. Every round will take place in a new environment, and you need to do your best to make the best decisions and overcome all the difficulties you face there. The obstacles will never end, so get prepared to jump and even crawl to avoid them. And the guidelines in each round will also differ. This feature makes the process so exciting. Join now to check your agility skills!