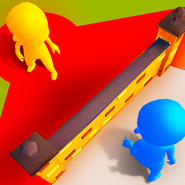 When you were playing hide-n-seek as a child, what did you like most – hiding or seeking? In this game, you will be able to try both of these roles! The whole process runs online and you don't even have to get up from your chair or go out into the street to play your favorite kids' game. So, shall we begin?
Good old games moving online!
The virtual hide-n-seek is nothing much different from the real one. The players are divided into teams of those who hide and those who seek. They are color-coded so that you can instantly tell who is in front of you and also clearly identify your own character on the map. Besides, there is one more additional goal – you have to collect ten diamonds of your respective color in the process. Simple yet vibrant interface, exciting and addicting gameplay and the ability to enjoy another hide-n-seek session from anywhere at any time make it a great way to plunge into nostalgia and feel like a child again!