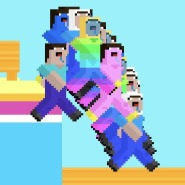 Noob and his buddies decided to set up a little contest and see who is the fastest and most agile. You can join this exciting event playing Noob Guys! The game resembles other games of the kind where you have to run against a whole crowd of players making your way through tricky obstacle courses. Are you ready?
Have a blast together with Noob!
Every level poses a new challenge. You'll have to run as fast as possible, break through doors, swing on ropes and jump through hoops. There are also team rounds where the remaining players will be divided into two groups and will have to fight against each other. Only the first several participant to reach the finish line will proceed further, so focus and hurry up! Bright graphics, incredible gameplay and variety of levels will surely let you spend a wonderful time playing Noob Guys online!