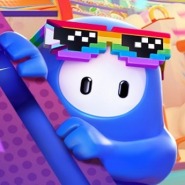 If you love adventures in real time, you must test Fall Guys! This incredible entertainment will take you to a crazy competition where 60 players interact at once! The gameplay is a series of short matches where you need to take part in mini-games and complete a special task. Weak players are eliminated of they fail the mission. And stronger participants are allowed to move to the next trial. It is endless fun, are you ready to give it a try?
Make sure you trick them all!
You will find yourself in the company of clumsy characters. They all look like crazy beans, and you will become one of them. But they all are quite cute and movable. However, only one player can become a winner. So you need to act better than your opponents to get a chance to win! There are lots of obstacles and trial waiting for you in this cool adventure. Use your strongest logical skills and all agility you have to leave your enemies behind!