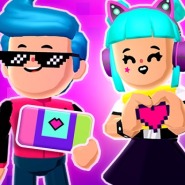 In this great entertainment, you will act in an open world. In short, you will deal with creating your own character and arranging a home for him. You can also interact with other personages of the game and visit their homes. In other words, you create a life scenario for your hero, and it depends only on your actions and choices whether it is going to be full of fun!
Interact with other characters!
In this game, you can complete various tasks and receive challenges from other players. This will allow you to earn in-game currency. You can use the money to buy a variety of furniture, accessories, clothes and many other useful things. Do not forget to explore the city and get acquainted with lots of other characters here. You can do whatever you want here – attend cool parties, walk in the park, go to school, make friends and communicate with them. Just stay active and enjoy your life!