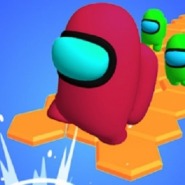 When you are running fast and then fall, it can be quite painful. But not in this game! Here you won't be hurt, but you will be thrown back to the last checkpoint while your opponents keep running further. Don't get upset, get up and continue the race! That's the only way to win in Do Not Fall!
Keep your feet on the ground and outrun your rivals!
The match will take place on a variety of tricky levels that consist of platforms going higher and higher. You have to make your way as far as possible running along shaky bridges and hopping between small islands of hard surface hanging over the abyss. You have to stay on your feet no matter what and avoid falling down because you'll have to start everything almost from scratch. You will surely get a lot of amazing emotions in the process and charge yourself with energy for the ret of the day! Start playing online, test and improve your reflexes and have a wonderful time!