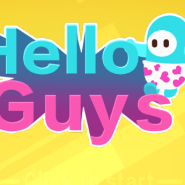 Are you fast and agile enough? Let's find out playing Hello Guys! Here you have a chance to compete with other players on a great variety of maps that consists of tricky traps and hurdles. Will you be able to get through all of them without dying? This remains to be seen!
Will you finish off first?
In Hello Guys, you won't be alone on the racing track – together with you, there will be other participants trying to leave all the rest behind. So you have to push ahead with all your might and also lure other players into traps that are present on the levels in abundance. The main thing is not to get there yourself! You will have to jump over sharp spikes, dodge flying hammers and choose the right moment to get between two lasers creating a deadly beam that cuts everyone in half. Although it all may sound a bit violent, the game is made in a cartoon style and is thus good to be played even by small kids.
Lots of levels and adrenaline!
Hello Guys will definitely appeal to you with its bright colors, cheerful gameplay and lots of action. Once you start playing, there is unceasing movement and fun waiting for you. The whole thing gets even more exciting when you realize every level is different and thus feels like new every time. It's also a great way to train your reflexes and become a pro at various runners and platformers. Enjoy wild races and adrenaline-packed levels playing this awesome game online and invite your friends to join the thrill!