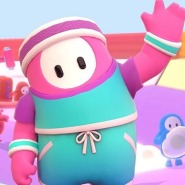 Who are these funny-looking characters that are running and fussing on a map filled with various hurdles? These are Fall Guys, and you can join their merry races! Just enter the game and wait for the needed number of people to gather to start another match. It's going to be awesome!
Let's start the race!
The point of Fall Guys is to arrive at the finish line among the first half of the players. You don't necessarily have to be the very first – it's enough not to be the last. The other half of the participants will drop out and those who were agile and lucky enough to get further will proceed to the next round. Each round has something unique and unexpected to offer, so it will always be interesting to play just like for the first time. Aside from classic races, there will also be team rounds where you will have to cooperate with other players to win. Immerse yourself into this vibrant and thrilling game and enjoy every moment!