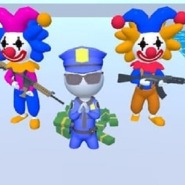 What can you do when a group of Crazy Jokers kidnaps your friend? You don't know where he is now and whether he is even alive. But you know that you can't just leave him high and dry! So you decide to set out on his searches and get through all the hurdles that may arise in your way. After all, what else friends are meant to do when one of them is in trouble? Enjoy the dynamic and addicting gameplay of Crazy Jokers 3D and see if you can pass all the levels!
Challenging levels, lots of action and great emotions!
The goal of the game is to keep moving through the levels trying to stay alive and collect as many diamonds as you can. You have to demonstrate good reflexes and agility to deal with all the obstacles and make sure your character gets to end of the location safe and sound. Sometimes you'll need more than one attempt to make it to the finish line, but persistence and skill will be rewarded in the end. Start playing and good luck!