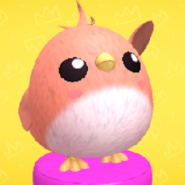 It's quite easy to race against the AI. After all, you can simply choose the needed level of difficulty and enjoy your victory. Playing against live players is a rather different thing though. You can find out just how it feels by trying Fall Guys Knockout!
Take part in a riveting race!
In this riveting game you'll take one of the funny-looking cartoonish men under your control. They all have gathered to take part in a race that is going to unfold across a variety of locations. Moreover, the conditions of winning are different on every level and you can't tell in advance what kind of task is waiting for you next. So you have to adapt to everything quickly and come up with a winning tactic on the go. Will you be able to do it?
Deal with different trials and see if you can win!
The match consists of several stages. At each of them, part of the players will be thrown out of the contest because they arrived at the finish line among the last. Those who managed to do it rather fast will proceed further and try their hand at the next level. In the end, there will be just ten people left who will be struggling for the crown of the champion. Succeeding in Fall Guys Knockout will require good reflexes and agility. It won't take you long to get the hang of the controls, but hitting the right buttons on time is a skill only you can improve! The more you play the better you'll get at overcoming various hurdles and coping with difficult situations. Good luck!